Hot Rodding, Then and Now
Vern Tardel
Flathead Fords have been the problem and the solution for Vern Tardel of Santa Rosa California – the flatties have been his hot rod of choice since high school, when he started to hang around Bing's Speed Shop (Ed Binggeli). Through the late 50's when the Flathead Ford V8s dominated car racing still, through the next thirty years when you could find the occasional drag race promoter, dry lake racing club, or dream of a land speed record at Bonneville, and into the end of the 20th Century when enthusiasm for the Flathead nostalgia rods took hold – through it all, Vern stayed true to his Flathead roots and built a great number of A-V8s, other V8 cars, and hot rod engines.

Vern had some good times at the drag races in California - he says if he got off the line good he could win sometime. He is not one to boast. Red Hamilton and Vern met at a drag race at VacaValley Drag Strip, once part of the Vacaville gliderport runway. Both running Flatheads, they met again from time to time at Fremont, Baylands, and later, at Antique Nationals in southern California. Red will never forget that Vern loaned him a bottle jack at Vacaville, and then took off home. It was a long time before they met again and Red gave Vern his jack back. Racing and competition are always friendly with Vern and his buddies, even through the many Bonneville trips to try to set the elusive record.

His most recognizable car is probably the A-V8, built from Ford parts with a hopped up engine, but coming close to the A-V8 would have to be Salt n Pepper, the 49 Nash with a blown Flathead and big red chili peppers painted on its sides.

Salt fever took hold for many years and record attempts, and with his son Keith and friends he claimed two records at Bonneville. Vern might be even more famous for his Flathead lifestyle, because he led a group of open Flathead roadsters from northern California to Bonneville for years, in his unique style wearing a pilot's leather hat and goggles and a white t-shirt. In this photo are cars by Vern, his son Keith, and friend Terry. The XF 517 Tardel McKenzie car did well. In 2004, they went 165.068 in the mile. This photo was taken in 2000.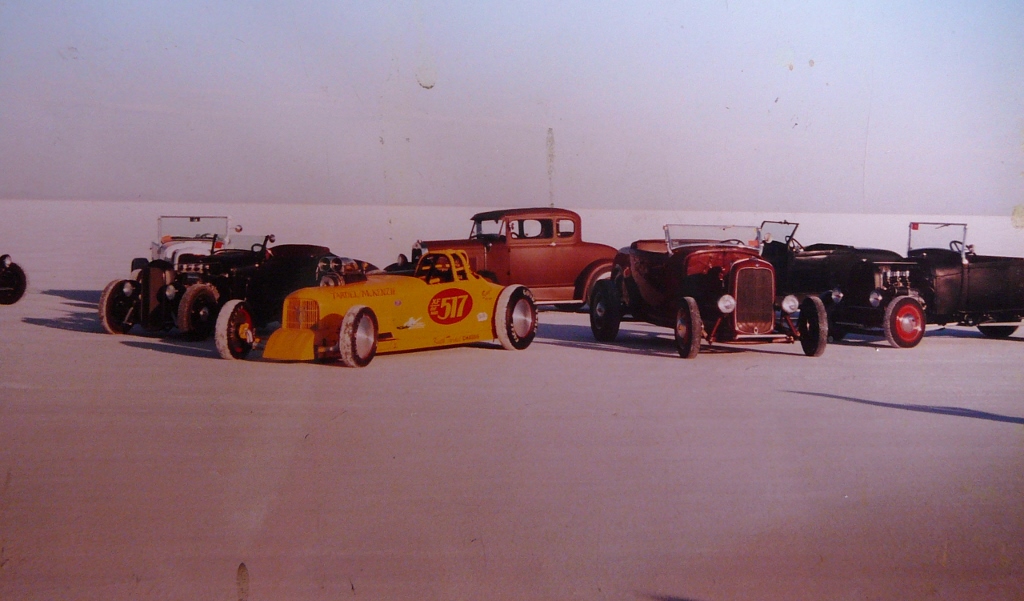 His shop, set into an orchard on the outskirts of Santa Rosa, was a time warp so treasured that the Oakland Museum created a show about Vern and the cars and the shop, as did the San Francisco Museum of Modern Art. In most ways, Vern's flathead hot rod building life is modern art. Real hot rods, done right.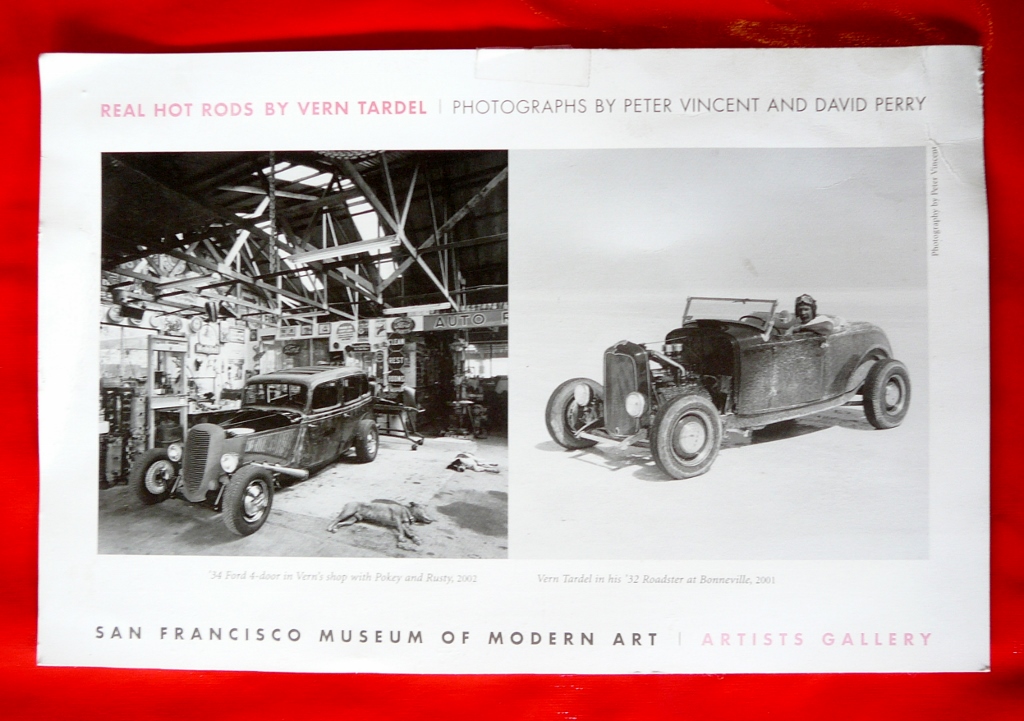 Vern's book "How to Build a Traditional Ford Hot Rod" is still available, in its third printing, as are his handy "Let Me Help You" booklets, at www.verntardel.com