Hot Rodding, Then and Now
Wayne Taylor
Many friends and acquaintances know Wayne Taylor as the modest charming volunteer for many of the Early Ford V-8 Club's activities – including managing the organization and storage of the collected history of this international club. As Club Historian, Wayne participates at all the Western Region gatherings and enjoys connections with members in many regional groups, as well as his large family of V-8 friends in the Redwood Empire Regional Group. He is the proud owner of an award winning 1934 rumble seat coupe (1st Place in Touring at Redmond Meet, 2nd Place in Touring at Tahoe) – that he keeps roadworthy in his garage in Napa along with a first class 1947 Mercury coupe and a Ford Tubo Coupe.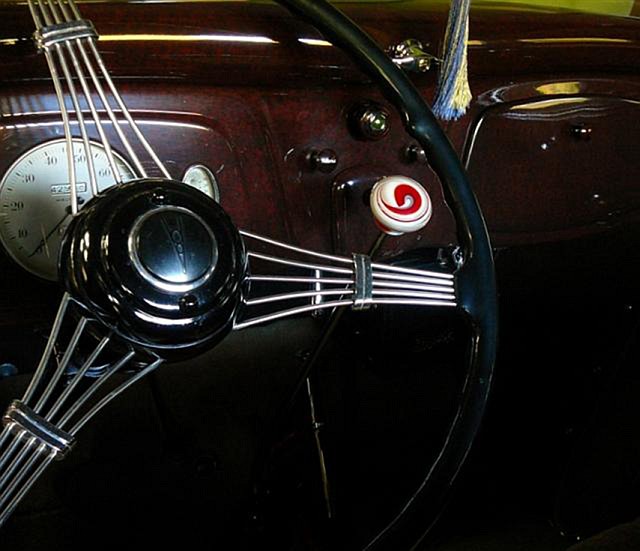 Wayne bought the "pile of parts" from which he created his excellent 1934 rumble seat coupe in 1971. In 1972 he met Tom Johnston, also in Napa, who he had been told had an original 1934 Sedan. From this friendship, Wayne and Martha Taylor found their way into the Redwood Regional Group's family and by 1997, they co-hosted the Western National Meet in Santa Rosa with the Dave and Jan Kibler. The extended family of Early Ford V-8 owners has shared their collective wisdom enthusiastically to help Wayne restore and build his cars, and they have been there to support him through the great sorrows of losing Martha, and a few years later, his girlfriend Liz.
But behind Wayne's devotion to all things V-8 and properly original vehicles, you find that hot rod fascinated kid with a history that goes back – to when Wayne was 14 years old, and he bought a 1922 Model T for $25. Selling that for a handy $10 profit, he saved and moved up to a 1936 Ford Coupe, which once he lowered it, bull nosed it, and put on dual pipes, became his ride of choice at Napa High School. He chuckles when he tells of his days working the parts counter at the Chevy dealership, infuriating them with his favored Fords.
By the time Wayne had completed a stint in the Air Force at Travis and some college, he had met Martha and at their wedding in 1957 he had a black 51 Merc – lowered, with pipes.
During most of this time in addition to his hot rods he had a great love for motorcycles, first a Knucklehead Harley, then a Triumph Thunderbird. Following his second motorcycle crack up, Martha visited him in the hospital and suggested that they turn their attention to cars. Wayne took the hint.
From a pile of parts in 1971 to roadworthy and driven to Bend Oregon 1997 Meet was a huge accomplishment. It had to be the way he wanted it -- even the wood graining he selected was 1933 style because to Wayne, it looks better in the 34.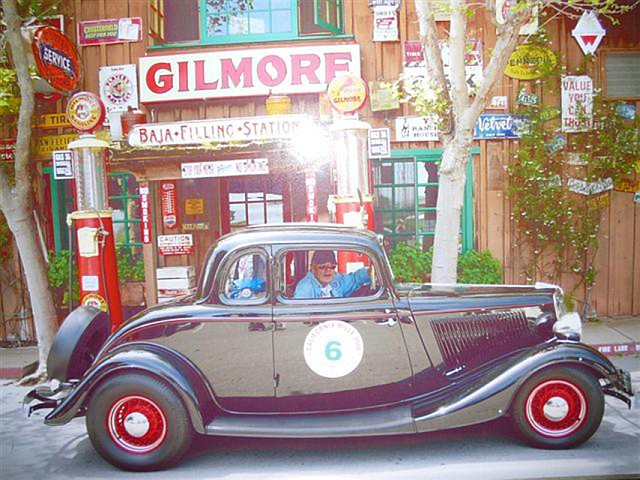 Wayne took the 1934 out on quite a tour in 2006 when he joined the California Mille – the 34 was greeted with great affection at stops on a tour dedicated to exotic vintage automobiles. It was a different experience being the only Flathead Ford V8 powered vintage car in a field of amazing breadth, for the 70 or so cars include everything from a 1928 Bugatti 35B to Ferraris, Jaguars, Lancias, Gullwing Mercedes and a Kurtis 500KKS1. Wayne and his friend Paul Arenson had a great time and enjoyed the high end living for a week on the Mille tour. The Columbia overdrive in the 34 was certainly a big help on the long stretches of the Mille.
Hang around with Wayne for awhile and you find that he has a host of hot rod friends and projects to check in on. He is a long standing member of Napa's Friday evening "Safety Meeting".
The attention to detail that Wayne put into the 34 Rumble Seat he was also able to focus on the "almost 34", which is quite the little ride.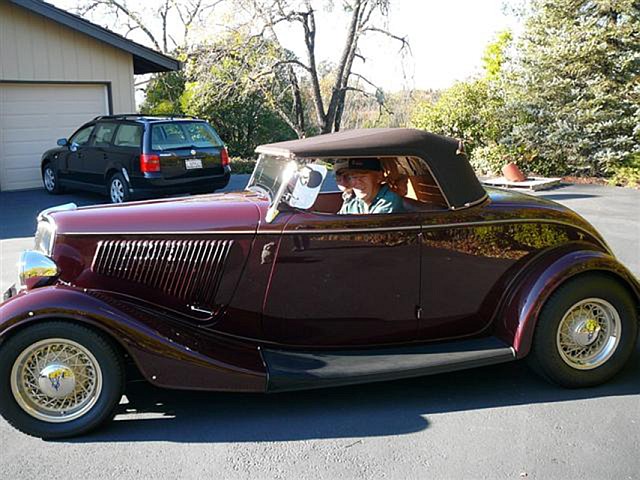 He finished this beauty in 2010 – it is a Wescott glass body with steel fenders on a Fatman frame, sports a 2" chop, a Vega steering box, a dropped axle, an 8" Ford rear end and an engine built on French flathead block with help from Red Hamilton to have some fun with it. The five speed Tremec transmission, and SoCal disc brakes are street rod proven elements, but the 255 ci Flathead with 4" crank, Isky 400 Jr cam, adjustable lifters, Offenhauser heads, and the tall Thickstun 2x2 intake were all selected to make the best streetable Flathead V8 possible. Even though Ford USA stopped making Flathead blocks in 1953, the French Army kept making them into the 1980's, giving a strong base on which to build the engine. It works. Dave Rasmussen has been a great friend and a huge help on this project. Much of what Wayne had learned and tucked into his capacious memory for hot rodding Fords went into the "almost 34". You have to wonder, what is Wayne going to do next.